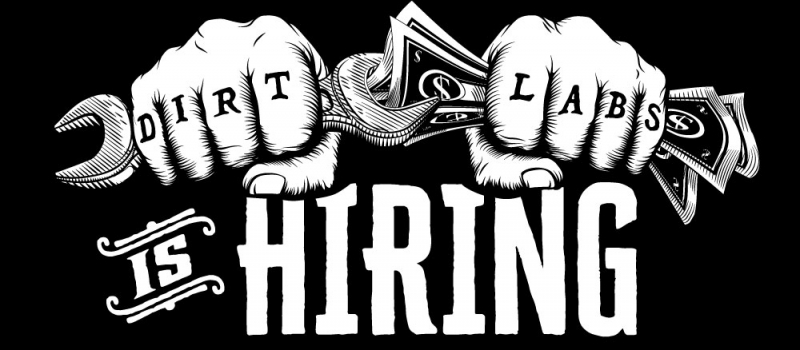 THE DIRTLABS FAMILY IS GROWING — we have positions open for passionate bike riders
Suspension Tech
More Details
Key Responsibilities:
Perform suspension item repairs from start to finish
Work through and diagnose common suspension issues with service manager
Passion for mountain bikes is a must
Maintain close attention to detail and take diligent notes
Ability to use spreadsheets to track repair progress, special orders, etc.
Maintain top level customer service
Maintain cleanliness of the work-space
Ideal Candidate:
You are a straight shooter and appreciate the work involved in improving the riding experience of all types of riders. Busy days don't phase your quality of work or attitude and you thrive on a processed driven approach. You align with the Dirtlabs mission and are all about "the lifestyle" the outdoor / bike industry provides.
Mechanical Aptitude – you are familiar with the wrench and "how things work"
Attention to detail – you can identify trends within suspension components and apply knowledge learned across all you work
Strong communication skills – you can formulate your thoughts to customers and coworkers effectively, checking any ego at the door
Qualifications:
0 – 3 years of mechanical experience (bike specific is a plus)
Customer service experience
Understanding of Google Docs and or Microsoft Products (or similar)
Rides mountain bikes – this is a must. and will be handy during company trips, and random "go ride Wednesdays" (or any day of the week for that matter)
Compensation: Depends on experience.
Internships.
More Details
Key Responsibilities:
Work alongside technicians and service writers
Passion for mountain bikes is a must
Maintain close attention to detail and ensure we are treating all of our customers with the best care
Be part of the Dirtlabs process works to improve the ride experience for our services
Ideal Candidate:
Communicates well and enjoys working with and engaging people — customers and staff alike. Bikes and the industry are appealing and you're curious about the tech side (even if you're not mechanically inclined). A busy office and multi-tasking do not intimidate you. Being positive and having fun — you got that.
Qualifications:
Understanding of Google Docs and or Microsoft Products (or similar)
Rides mountain bikes – this is really important and will be handy during company trips, and random "go ride Wednesdays" (or any day of the week for that matter)